Discover more from Creator's Corner
Join 350+ subscribers for advice on writing, drawing & mindset that will propel you on your creative journey.
Creators' Corner #34 - 2022 Annual Review edition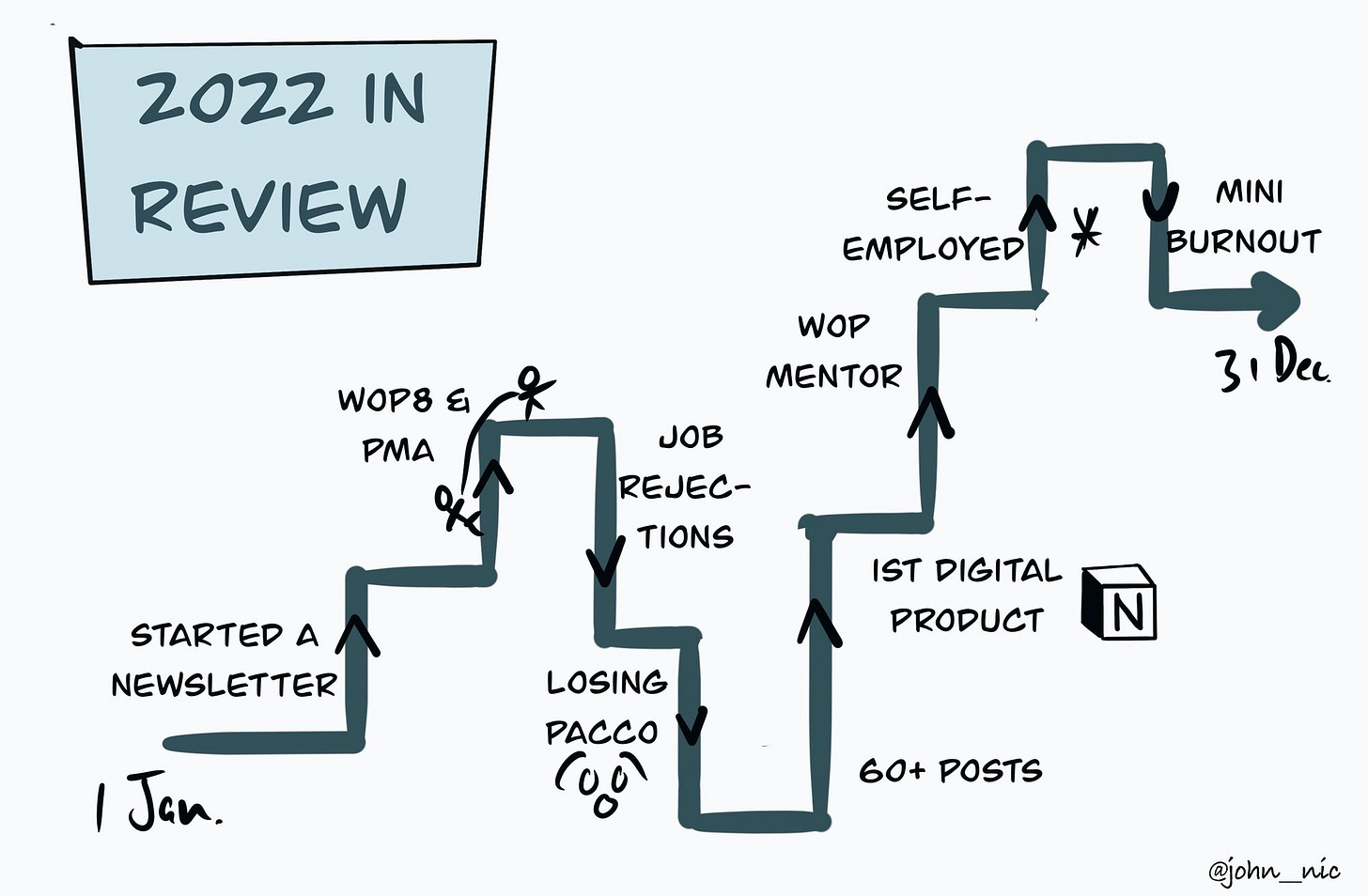 Hey everyone 👋. Happy New Year!
We're up to 245 creators this week. Thanks so much for being a subscriber. Here's the previous edition of the newsletter for those of you who missed it. As always – please reach out if you have any thoughts or ideas. I would love to hear from you.
---
Small talk:
It's good to be back after a brief, but necessary break from work and writing and being online all the time.
Towards the end of last year it felt like my fire matches were wet or damaged. I couldn't get them to spark anymore. Now I'm excited to get back on the horse and start creating again.
-> Today I'm sharing my annual review for 2022 - the year that has been.
-> Next week I'll send out my goals for 2023 - the year ahead.
I'm curious - what are some of your big goals this year? What are you looking to create? Is there anything I can help with in terms of writing/drawing/creating? Drop me an email. I'd love to help.
Line-up:
New essay: Annual Review 2022.

My favourites: book, podcast and documentary of the week.
---
1. Annual Review 2022
It's here! My annual review for 2022.
In many ways 2022 was one of the best years of my life. I went from being stuck in a dead-end job to creating under my own and going self-employed. I got to spend more time doing what I love with people that I care about.
At the same time, there were some big lows. My grandad passed away in March and we said goodbye to our dog, Pacco, in May. I also went through the proverbial wringer applying for 30+ jobs before finding a new path.
The highs were incredible and the lows taught me some valuable lessons. It was a year of uncertainty, but I also felt more grounded as a result of writing. All the experiences added to a rich and colourful year and I wouldn't have wanted it in any other way.
Click the link to see my highlights, low-lights, timeline, stats and memories from 2022.
Next week I will share my plans for 2023.
---
2. Things you might like
1. 📚 Book: Small Things Like These by Claire Keegan. A powerful novella dedicated to the victims of the Magdalene laundries, where an estimated 30,000 Irish women were incarcerated between the 18th and 20th centuries. Favourite quote:
"As they carried along and met more people Furlong did and did not know, he found himself asking was there any point in being alive without helping one another? Was it possible to carry on along through all the years, the decades, through an entire life, without once being brave enough to go against what was there and yet call yourself a Christian, and face yourself in the mirror?"
2. 🎙️ Podcast: Using Meditation to Focus, View Consciousness & Expand Your Mind by Andrew Huberman and Sam Harris. A 4.5 hour conversation covering all the topics I've come to love from Sam Harris - mindfulness, the illusion of free will and states of consciousness. It was a good intro to Andrew Huberman for me as well. He's a neuroscientist who has received a lot of praise from other writers in my community.
3. 🎥 Documentary: Stutz by Jonah Hill and his therapist Phil Stutz. One of the best documentaries I've seen in a while. It combines two topics that are close to my heart: active listening and drawing from conversation.
It's packed with humour:
"You want your friends to listen and your therapist to give you advice but it's usually the other way around." - Jonah Hill 😂
And a good dose of perspective:
"Life is pain, uncertainty and constant work." - Phil Stutz
While the quote may sound negative, it actually fosters the right frame of mind. Don't expect things to be easy. If things are difficult, that's right, that's normal. There is meaning in that. Not working, not improving, being lazy leads to other troubles.
There is also some overlap with Stoic teaching. Stutz speaks about Radical Acceptance: there is nothing good or bad. Everything you experience is a learning opportunity. This reminds me of Storytelling Reframe – "A good day's a good day. A bad day's a good story."
Wishing you a wildly creative year!
– John
P.S. Angie Wang and I are hosting a creative drawing session with Salman Ansari this Friday at 12pm ET! Sign up here:
---
👋 I'd love to hear from you. You can respond directly to this email or drop a comment below.
🫶 Enjoy Creators' Corner? Forward it to a friend. They can sign up below:
💌 If you would like to support my writing, please check out my digital products here.
👻 Built on Ghost (referral link).